Children's Art Contests Hosted By Frames By 3
4th Annual Kids' Summer Art Contest - 2017
For kids aged 6 to 10 years.
This year's theme: Superheroes.
It could be a teacher, an older sister, a fireman or a cartoon or movie hero.
Create your artwork on an 8.5" x 11" piece of paper, bring the finished piece to our store by July 18th, and we'll take it from there. All entries will be professionally matted and posted at our location.
1st Prize - Artist receives their art professionally framed!
2nd Prize - Gamer receives 4 complimentary passes to Edison's.
3rd Prize - Jumper receives 4 complimentary passes to Altitude Trampoline Park.
Our 2nd Annual Summer Kids' Art Contest 2015
1ST PLACE WINNER receives their original art professionally framed in one of our cool flashy frames.
2ND PLACE WINNER receives a complimentary painting class at Michael's Craft store for them and an accompanying adult, materials furnished.
3RD PLACE WINNER receives their own "Learn to Draw Kit" by America's TV instructor Jon Gnagy which includes book, paper, pencils, chalk, eraser and more.
Our 2015 Art Contest featured a patriotic theme. We received several entries as you can see by our window display showing all of our great entries. Our winners this year were as follows
First Place Winner: Lexi Trimm, Age 10

Second Place Winner: Ellie Hubler, Age 9

Third Place Winner: Lily Fellin, Age 8

All of Our Wonderful Entries by Our Young Artists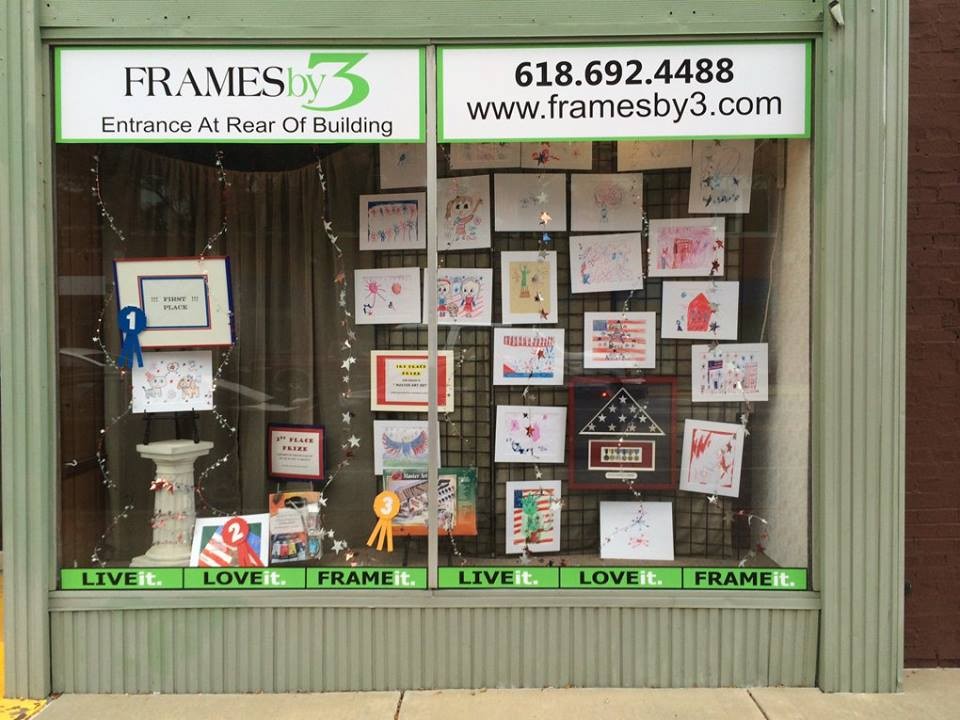 Our 1st Annual Summer Kids' Art Contest 2014
Ellie Hubler won first prize. She won a cool, shiny Jonathan Adler frame with suede topmat. Ellie's artwork is entitled "Whirlwind Fish." She is 9 years of age and her parents are Tom and Lori Hubler of Collinsville, IL.
Payton Kolnicki won 2nd prize with artwork entitled "Jurassic Period." Payton is 8 years of age and her parents are Alex and Anissa of Glen Carbon, IL.
Lily Fellin won 3rd place with artwork entitled "The Eiffel Tower with Fireworks." Lily is 8 years of age and her grandparents are Dan and Donna Neumann from Edwardsville, IL.